Sammy Davis Jr.
By Dexter Davison
March 1, 2019
---
Sammy Davis Jr. — The Greatest Entertainer in the World — is the subject of I Gotta Be Me, "the first major film documentary to examine Sammy Davis Jr.'s vast talent and his journey for identity through the shifting tides of civil rights and racial progress during 20th century America."
I Gotta Be Me, which premiered at the JCC's Lenore Marwil Detroit Jewish Film Festival last year and aired last month on Detroit Public Television, has My Jewish Detroit wondering …
… was Sammy Davis Jr. Our Jewish Detroit?
Specifically, where does the Mr. Show Business fit into the venn diagram of Jewish and Detroit?
By birth? Neither.
He was born in Harlem to Baptist African-American Sammy Davis Sr. and Catholic Afro-Cuban Elvera Sanchez, both Vaudeville dancers. Owing to his parents, Sammy was a seasoned performer by the time he crooned "I'll be glad when you're dead, you rascal you" in the 1932 film Rufus Jones for President.
So Davis wasn't born in Detroit — or even Michigan. Neither was Hank Greenberg, Joe Louis, Max Fisher or Aretha Franklin.
Considering he started touring with his dad as part of the Will Mastin Trio at 3 years old, the city that can probably best claim his as its own is Las Vegas, though he faced rampant discrimination there even as a headliner.
By one apocryphal account, Detroit is where it all began. In that recollection, nine-year-old Sammy slips out of the grasp of a truant officer and back onstage to perform at a Turk's Club Trocadero on Fenkell thanks to Turk persuading the officer that he was a midget.
Danny's timeline doesn't quite line up — Sammy was 15 in 1940, only a few years away from being drafted into the army — but there's ample evidence to show his connection to Detroit precedes the Rat Pack era.
According to theconcertdatabase.com, Sammy played 59 shows in Detroit between 1949 and 1990, the final one less than three months before he died.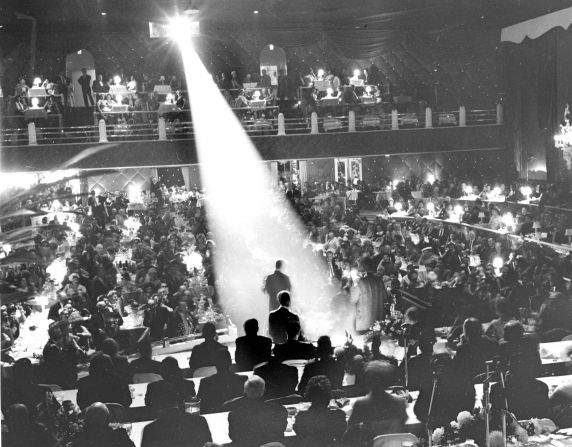 He sang at the 5th NAACP Fight for Freedom Dinner in 1960. Damon Keith, then a practicing attorney four years away from being appointed to the Michigan Civil Rights Commission and another three from the federal bench, was among the attendees.
Sammy Davis Jr.'s Judaism was national news. After the car accident that cost him his left eye, Davis found solace in Jewish chaplaincy and resonance in Jewish teachings about justice.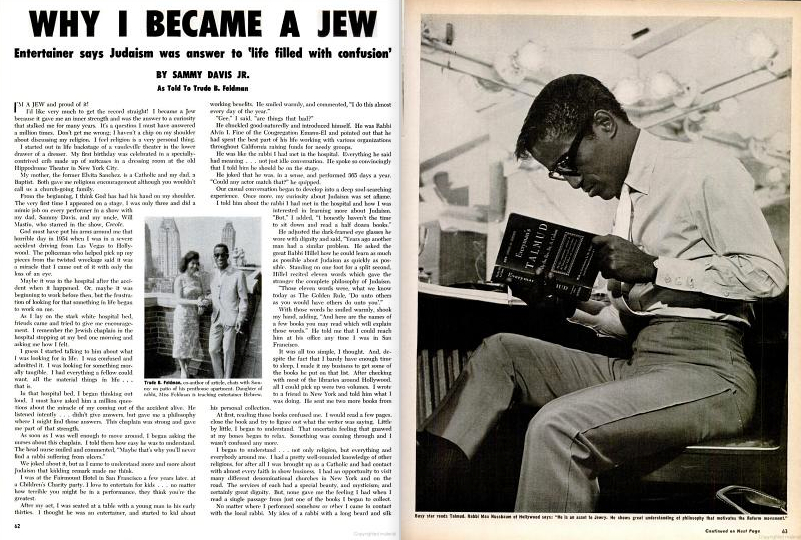 "The year came to an end and I returned to the rabbi. I gave him my answer, and NOT one ONE foot. I told him I wanted to be a Jew because I wanted to become part of a 5,000 year history and hold on to something not just material, which would give me that inner strength to turn the other cheek. Jews have become strong over their thousands of years of oppression and I wanted to become part of that strength. As a Negro, I felt emotionally tied to Judaism."

"I wanted to become a Jew because it was the answer to a life filled with confusion and uncertainty. Judaism gave me security and understanding."

– Why I became a Jew, Ebony Magazine, February 1960
He struggled to persuade Sam Goldwyn of his affiliation and need to miss a day of shooting George and Ira Gershwin's Porgy and Bess in 1959 in order to observe Yom Kippur.
Goldwyn ultimately relented: "Sammy, you're a little so-and-so, but go ahead with your yarmulkeh and your tallis. We'll make arrangements to fit…" Holding up production for the day cost MGM $30,000 or, adjusted for inflammation, a quarter million dollars.
As for Detroit, connections were plentiful as both the city and Sammy enjoyed a national profile into the 1960s.
Davis and Walter Reuther were among the notable participants in 1963's March on Washington, where Dr. King delivered the I Have a Dream speech first heard in Detroit two months earlier.
A Jewish cause first brought Sammy to Detroit that same year (having helmed the floor show for the Home Relief Society at the Windsor's Elmwood Casino in in 1955) and he did not disappoint with either his offer to return to Detroit for a concert that fall or his thoughts about Israel.
"It is a warm, generous feeling to know that you belong. We must be governed by two great principles: 1. We must not be afraid to voice our opinion. 2. We can not guarantee our freedom if the freedom of others is menaced.

"The Freedom March was the greatest experience of my life … I've never been to Israel but Israel is my adoptive country and I don't want to go there for money. I want to go there to give a series of benefits. This is the year of the redemption of the first Israeli Bonds and of the Freedom March, but the March and the Redemption does not mean the end, only the beginning of our efforts."
And Sammy visited countless Detroiters, among the 21 million Americans who tuned in to see his big moment with Archie Bunker in 1972.
But it wasn't until the the hardscrabble 1980s, after the city and star's post-war peak, that they converged to create something both nostalgic and aspirational.
Berry Gordy Jr. and Motown had long since gone west by 1984, when Mayor Coleman Young reached out to him to write an anthem for the city.
Gordy has Sammy Davis Jr. in mind for the song and Sammy, for his part, "fell in love with it and felt it reflected his feelings on Detroit."

Hello Detroit is not the best of the Motown Sound, nor did it have the place-making punch of Sinatra's New York/Chicago or even Bennett's San Francisco/Capital City.
But there's an earnest tone to Davis' voice — road weary and romantic — even as the reach of Gordy's lyrics exceeds their grasp.
You're a fighter, you're a lover
You're strong and you recover
From whatever gets you down
Those opening lines describe Sammy Davis Jr. just as well as they do Detroit and, for that matter, the resiliency he saw in his chosen people, "from one end of the world to the other, despised and rejected, searching for a home, for equality and human dignity, suffering the loneliness of being unwanted, surviving the destruction of their homes and their temples, the burning of their books."
Hello Detroit, you've won my heart
Your renaissance, and waterfronts
Give you a flare of your own
Hello Detroit is oddly prophetic. It has taken the decades since the song, for example, to adapt the fortress architecture of the Renaissance Center and to piece together the RiverWalk from parcels of blight and brownfield.

And yet in 2019, if you seek flare — or soul or grit or heart — look about you!
Sammy Davis Jr. said, "My home has always been show business" and Detroit was always hospitable, even in the twilight of his career.
The trio's five-night stand, replete with 30-piece orchestra, kicked off a new era for the Fox Theatre. The Fox originally opened in 1928, the same year a 3-year-old Sammy Davis Jr. performed for the first time. And the concert rebroadcast may have been the most dignified three hours of content to air on Showtime in all of 1989.
The Sammy Davis Jr. 60th Anniversary Celebration in 1990 — as the honoree was undergoing radiation treatment for throat cancer in the final months of his life — is extraordinary, both as tribute and time capsule.
The stars who graced the stage to fete Davis were as iconic as you'd expect (with heavy weight irony in hindsight) for a triple threat who performed on stage and screen for decades. Behind the scenes, Mumford ('62) and Wayne State ('66) alum Bruce Miller arranged the music for the Emmy-winning program.
While it's unclear whether Sammy Davis Jr.'s car fetched the asking price at auction in Pontiac…
… it is as clear as a sunrise sprinkled with dew that Sammy Davis Jr. was and — daring to try, to do it or die — is our Jewish Detroit.
And there's so many many reasons, any time, any season…